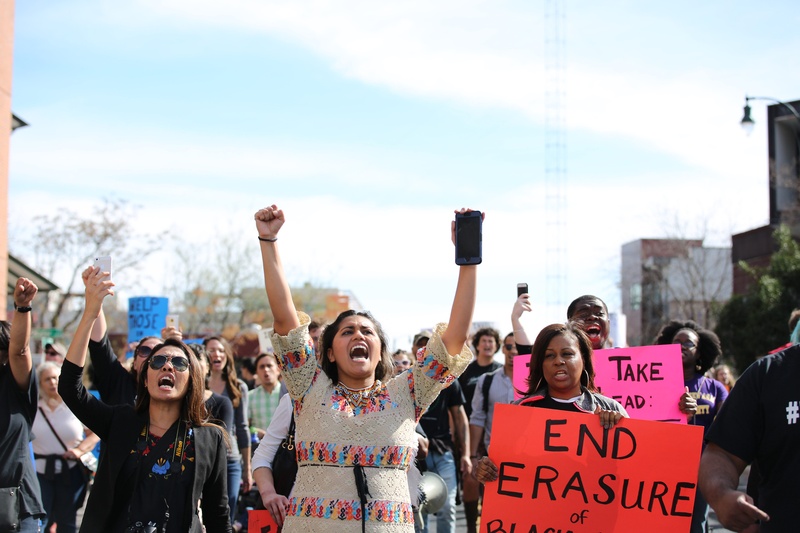 Thousands of Texans are expected to march in cities across the state during Texas' multiple iterations of the Women's March on Washington Saturday afternoon.
Inspired by the flagship demonstration in Washington — which has an expected attendance of more than 200,000 — 16 Texas cities will host "sister marches," including Austin, Houston and Dallas. Across the state, the marches are sponsored by different civil rights and political activist organizations such as Planned Parenthood and the Texas Freedom Network.
Saturday's marches will follow a day of protests and counter-protests that erupted around Texas Friday while Donald Trump's inauguration took place in Washington D.C. More than 500 University of Texas students protested Trump's inauguration at the UT Tower; later in the day, more than a thousand people gathered at Auditorium Shores for the One Resistance march to the Capitol.
Organizers expect Saturday's March on Austin to be the largest demonstration in Texas and the fourth largest worldwide. More than 600 "sister marches" are recognized by the flagship march website, which estimates that more than 2 million people will participate in these demonstrations across the globe.
The Texas Tribune thanks its sponsors. Become one.
Melissa Fiero, head organizer of the March on Austin, said she expects thousands of people to show up at noon Saturday. Marchers will meet in front of the Texas Capitol and walk down Congress Avenue, turn on Fourth Street then walk back to the Capitol.
Fiero said the event is bipartisan and she hopes it will send a message to the incoming Trump Administration as well as Texas lawmakers.
"The march is not specifically targeting or focusing on any particular political issue," she said. "We're not a protest, we're a message of pro-human rights and social justice issues."
So far, she said, she hasn't heard of any opposition to the march, except for a few trolls on their Facebook page.
In Austin, the march will feature speakers such as Rep. Senfronia Thompson, D-Houston, former state senator and gender equality advocate Wendy Davis and motivational speaker Lizzie Velasquez.
In Houston, the march is organized by the League of Women Voters and will meet at the Houston City Hall. According to organizers, more than 13,000 people signed up for the Houston march, which will start at 11 a.m.
The Texas Tribune thanks its sponsors. Become one.
Dallas' march will start at city hall at 10 a.m. In San Antonio, marchers will meet at San Antonio City Hall at 11 a.m. 
Disclosure: Planned Parenthood has been a financial supporter of The Texas Tribune. A complete list of Tribune donors and sponsors is available here.