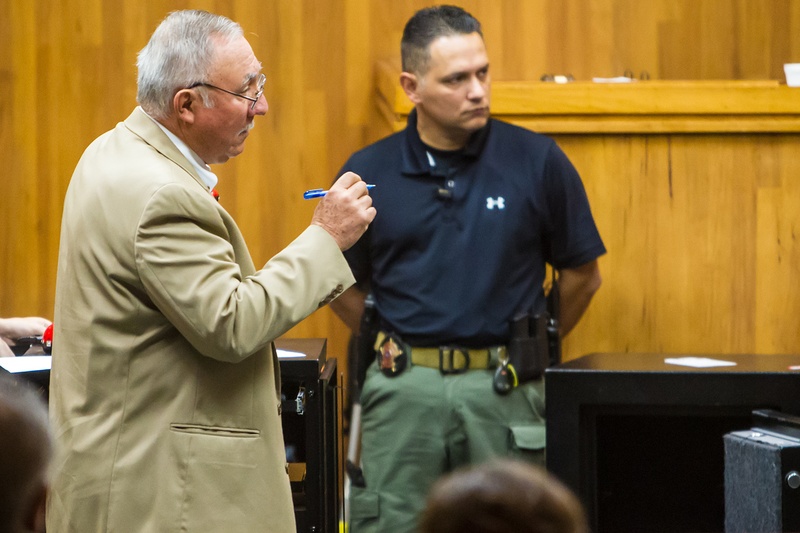 BROWNSVILLE — The fate of Border Patrol Agent Joel Luna and his Mexican-born brother Eduardo, both charged with drug trafficking and the murder of a would-be snitch, is set to fall to a Cameron County jury Friday after almost two weeks of testimony and sparring over evidence.
At the center of the case against the agent is a safe that his mother-in-law said was moved from his house to hers in 2015. In the safe was drugs, money and paperwork — the fruit of what prosecutors say was an international drug and gun smuggling operation. It also contained Luna's commemorative Border Patrol badge and the password for his workstation at the Hebbronville checkpoint.
Despite the appearance of wrongdoing, Joel Luna's defense attorney, Carlos Garcia, argued that the state still hadn't produced a shred of evidence that ties him to specific allegations listed in the four counts in the indictment. At the top of the list is capital murder — for the grisly slaying and alleged beheading of Honduran immigrant Franky Palacios, whom prosecutors say was about to snitch on the Luna brothers.
Garcia is arguing that prosecutors wanted a "trophy" defendant and are pinning crimes committed by others on his high-profile client.
The Texas Tribune thanks its sponsors. Become one.
"A crime was committed," Garcia told The Texas Tribune. "However, the reason Joel Luna was made a part of this case was because of the position he had and the familial relationships he had to others who are accused of committing crimes."
On Thursday morning, state District Judge Benjamin Euresti appeared to agree with Garcia that the state had fallen short in making the two murder charges stick to Joel Luna. Euresti called the government's case on that front "very iffy" but said he would let the jury decide it without instructing them that prosecutors had failed to prove those charges as the defense attorney argued.
Assistant Cameron County District Attorney Gustavo Garza argues that Joel Luna was an integral part of a family-run criminal enterprise, and he points to texts and phone calls — the contents of which are unknown — between Joel and Eduardo on the day of Palacios' murder. He is relying on the "law of parties," which allows prosecutors to charge a person who aids, assists or encourages another to commit a crime.
Garza referred to testimony from the Lunas' older brother, Fernando, who took a plea deal and testified against his siblings during the trial. Fernando told the court he was in the room at the Veterans Tire Shop in Edinburg when Eduardo shot Franky Palacios in the head after receiving text messages that indicated he might snitch on them. After the shooting, Fernando testified that Eduardo later dumped the body near South Padre Island.
Authorities found Palacios' naked and decapitated body in Laguna Madre Bay at the height of spring break in March 2015, and later charged the three Luna brothers and two other defendants with his murder. Last week, Fernando said he had discussed the murder with his Border Patrol agent brother in June; he said Joel inquired whether bloodstains had been left at the crime scene.
The evidence that Joel kept the safe, loaded with drugs and money, even though he knew what happened to Franky Palacios "indicates he was involved" in the murder, Garza said.
The Texas Tribune thanks its sponsors. Become one.
"The others may not have participated, but they should have anticipated" the murder, Garza said. "I don't think that's a stretch."
If convicted, Joel and Eduardo Luna face a maximum sentence of life without parole.
Related Tribune coverage:  
When Franky Palacios Paz was found floating naked and decapitated off South Padre Island, the local sheriff thought the murder would lead investigators back to Mexican drug cartel violence. He didn't expect a U.S. Border Patrol agent to be among those arrested.
In an unusual twist to an already unusual case, federal immigration authorities are questioning the nationality of a U.S. Border Patrol agent accused of capital murder and drug cartel ties in deep South Texas.